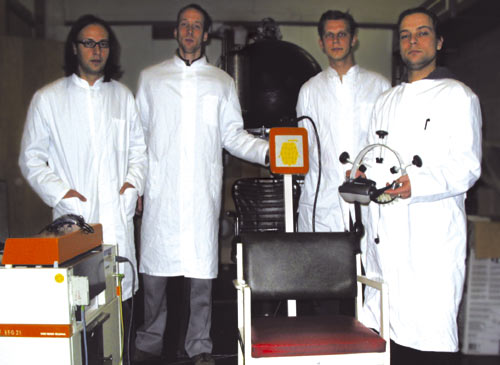 (BIOS team posing for you in front of the camera :-) in autumn, 2002 in their lab
in the cellar of the KHM - Academy of Media Arts, Cologne, Germany
from the left:
Thomas Tirel (www.thomastirel.de), Sven Hahne (www.khm.de/~hahne), Jaanis Garancs (www.garancs.net) and Norman Muller (www.khm.de/~norman) met during their studies at the KHM - Academy of Media Arts (www.khm.de) in Cologne, Germany. Artists' other individual and group projects range from experimental interfaces to audiovisual performaces and Virtual Reality.
Involved participants of the project met during their studies at KHM, Academy of Media Arts, with interest in various areas of interactive audiovisual and technological disciplines, and having experience or several common projects. Thomas Tirel had his largest competence with diverse video equipment, software / Norman Muller with projection and sound hardware / Sven Hahne with sound design and programming / Jaanis Garancs with interactive 3D and audiovisual Virtual Reality – where all have been relying much on self-developed techniques.
Willing to experiment biofeedback technologies, in 1999 Thomas Tirel finally obtained a functioning EEG device, which was partially donated by some hospital that was upgrading its equipment. Since then, with help of Norman Muller and Sven Hahne, during 1999-2001 they made several experimental set-ups with this device, converting analogue EEG output to various electronic devices (such as video- and sound generators and computer interfaces, trying to integrate with external computing) for aesthetic experiments. Fighting with many technical problems and as – undeniably – beginners in brain research – acknowledging their ignorance, they were doing intensive research through literature, personal correspondence and meetings with some specialists (medics, scientists). Gradually a deepened understanding of possibilities vs. limits evolved and the idea of loop-back system got crystallized as concept (more extended scientific background notes is accessible from BIOS website). That got submitted in late 2001 for the support from the KHM – for additional project funding. Some of the necessary technological prerequisites got solved in early 2002 and Jaanis Garancs joined the team more actively (concentrating on real-time visualizations for stereoscopic HMD), to present the project in an upcoming conference and art exhibition in autumn of 2002.
© 2002-2003: Thomas Tirel

, Sven Hahne

, Jānis Garančs

Norman Muller